Hedley McGee inducted into Australian Speedway Hall of Fame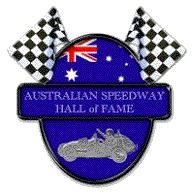 The late Hedley McGee, founder of McGee Cams, was recognized for his lifetime of work in Australian Speedway when he was inducted into the Australian Speedway Hall of Fame.
Legendary drivers, promoters, car owners and constructors were honored in Adelaide on Saturday, June 16, 2007, during the inaugural Australian Speedway Hall of Fame induction dinner.
Chris McGee, Hedley's son, represented the family and accepted the award. Longtime McGee race team members, Ken Mason, John Speziale and Lesley Gibbs joined Chris at the presentation dinner.
Fellow inaugural inductees were: Johnny Stewart, Kym Bonython, George Tatnell, Con Migro, Grenville Anderson, Gary Rush, Frank Arthur, Ray Revell and Don Mackay.
The National Induction Committee, established by NASR, was entrusted with the difficult task of nominating and then voting on the inductees, which was a closely guarded secret and sparked much conversation as to who should or might be inducted.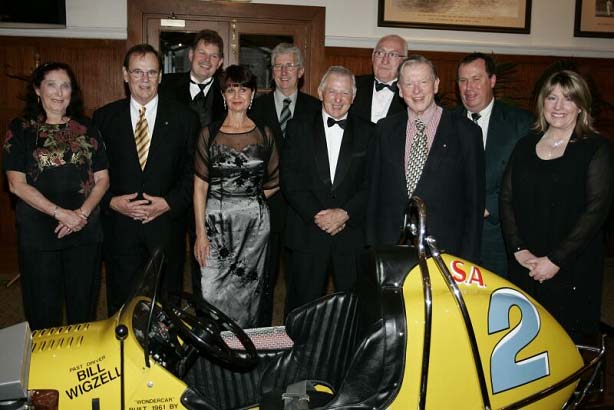 From left to right: Gloria Little (Frank Arthur's daughter), Con Migro, Chris McGee (Hedley's son), Sue Anderson (Grenville's wife), Howard Revell (Ray's son and champion driver), Gary Rush, Joe Tatnell (George's brother), Kym Bonython, Ronald Mackay (Don's son and champion driver) and Melinda Neist (Johnny Stewart's daughter) were on hand to accept the awards.
Some highlights of Hedley's career: Hedley McGee, an auto electrician by trade, was a pioneer in high performance engines in Australia. In 1946, after designing a camshaft-grinding machine, he founded McGee Cams in Sydney's Kings Cross. After visiting the nearby Sportsground Speedway, Hedley became involved with midget racing and built a Rugby powered midget driven by longtime friend, Gordon Cox. Soon he was approached by Empire Speedways and asked to help maintain the midgets for the visiting American racers who were competing at the Sportsground and Showground Speedways. Hedley helped New Zealand born driver Frank Brewer win the 1949 Australian Championship and the 1950 World Speedcar Grand Prix.


Hedley never drove on the speedway, however he raced an FX Holden at Bathurst and Mt. Druitt circuits. His wife, Lillian, also drove the car on occasion and broke Hedley's lap record while pregnant with their youngest son, Chris. After that, Hedley abruptly retired from driving! Hedley developed the first McGee Fuel Injection system and fitted one to his Holden powered speedcar. Driven by Werner Greve, it captured the 1956 World Speedcar Grand Prix. He also helped Stud Beasley and Murray Hoffman. By the early 1960's speedway was booming in Sydney. Hedley's shop was the home for most of the USAC drivers who who would compete at the Showgrounds each summer. Bob Tattersall, Leroy Warriner, Jimmy Davies, Mike McGreevy, Sherman Cleveland, Marshall Sergeant, Billy Mehner, Don Meacham and Merle Bettenhausen all raced out of the McGee Cams shop.


Hedley's older son, Phillip, joined McGee Cams and they fielded several "house" cars during that period. Kevin Park's McGee Shell "Revmaster" captured the 1964 World Grand Prix, and teammate Johnny Stewart, with Phil McGee as his crew chief, won the 1964-1965 Australian National Championship with the legendary McGee Shell "Trackburner".


In 1966 the McGee Cams "Tornado" hit the track. Hedley, always good at spotting talent, hired midget rookie and rising super-modified star, Gary Rush to drive the car. Later that season, Len Brock took over the seat for the big year-end races and won the 1967 Australian Grand Prix. Although the Falcon powered McGee Tornado had been fast, an Offenhauser engine was fitted for the 1968 season. The car ran up front most weekends. After Brock retired, longtime McGee driver Brian Mannion drove the car. Hedley's engineering endeavors were not confined exclusively to car racing. Heart transplant pioneer Harry Windsor commissioned Hedley to design and construct a heart and lung machine!


in 1968, Hedley's youngest son, Chris, joined his dad and brother at McGee Cams. In 1969, Ray Oram took over the driving chores and the McGee "Quiet-a Drive" Tornado had a couple of memorable seasons. Every Saturday night it was normal to see Oram charge from the rear of the field to the front. He also won in Adelaide and Liverpool. The car was sold in 1970 to Kym Bonython, promoter of Rowley Park in Adelaide, where it became the house car for US stars that were flown in to race.


During the 1960's, the McGee Cams business grew enormously. Customers included Joe Braendler, Gordon Benny, Barry Butterworth, Johnny Fenton, Jeff Freeman, Kevin Gormely, Bill Jost, Lew Marshall, Gary McClennahan, Max Monk, Des Nash, Jack O'Dea, Johnny Peers, Barry Powers, Ray Redding, Bruce Rickard, Blair Shepherd, Alan Streader, Bill Warner, Jack Watson and Charlie West. By the 1970's a variety of engines were used in midgets. The McGee's made fuel injection units for about any power plant that a team would choose. Some of their new customers included Jeff Besnard, Max Butterworth, Brian Dillon, Bruce Doolan, Bill Jackson, Kevin Higgins, Phil Herreen, Stan Lawrence, Doug Maurer, Sid Middlemass, Peter Nunn, Greg Smith and Jack Porritt. In addition to the midgets, the McGee's also made cams and fuel injection setups for solos, sidecars, super modifieds and sedans. George Tatnell became the driver of the McGee's house car and captured back-to-back Australian Speedcar Championships in 1972 and 1973. John Langfield, Greg Kentwell, Ole Olson and Mitch Shirra used McGee injection on their solos. Graham Young won the 1973 NSW Sidecar championship and Doug Robson the 1974 Australian Sidecar Championship with McGee injection. John Moyle won the 1973 Australian Super Modified title. Dick Briton won the 1975 Australian Sprintcar title. The McGee's "Tornado" Falcon engine found its way into Col. Winton's "Wild One" hydroplane, which won the 1974 Australian Title at Rathmines. McGee injection also dominated sedan car racing for decades. It was used by the Anderson brothers, Frank Clark, Ron Darrell, Phil Green, Peter Hogan, Carl Jeffrey, Bruce Maxwell, Col O'Brian, Howard Revell, Bill Roberts, Ray Solway and Peter Taunton.


The McGee's designed George Tatnell's Winfield Wedge in 1975, which won 17 races before being outlawed. The McGee's development of the Offenhauser powered cars of Tatnell and Barry Pinchbeck kept Offies competitive in Australia long after their demise in the US. Many International competitors were impressed with the McGee's camshafts and fuel injection systems and brought them back to their home country. Bob Tattersall introduced the McGee's products to many US race teams. Nigel Boocock took some special McGee cams, which were ground for the Westlake motorcycle engines, to the UK for champions Peter Collins and Bruce Penhall, helping win a World Championship for Peter Collins. In 1975 the McGee's opened a shop in Burbank, California. They enjoyed considerable success with Dean Thompson, Gary Patterson, Jimmy Sills, Brent Kaeding, Gary Bettenhausen, Earl Kelley, Peter Nunn, John Ryalls, Tom Hunt, Wally Pankratz, Linne Racing, King-o-lawn Racing, Gary Balough, Jerry Miller, Nick Rescino, Mike Sargeant and Rick Paronelli.



Phil Threshie (pictured) and Grant King Racing teammate, Gary Bettenhausen, competed at the Indianapolis, Milwaukee and Pocono Indy Car events in 1979.

In 1979, one of their customers, top sprint car builder, Grant King, approached the McGee's about building a fuel system for the Indy 500 where stock block based engines were to be allowed. Phil and Chris accepted the challenge and tuned the car to 8th fastest, over all, and a respectable finish. The following weekend saw the team finish 4th at Milwaukee. A month later they were leading the Pocono 500 when a crash took out the car with two laps to go. Sadly, Hedley McGee passed away in 1984. His sons, Phil and Chris, continued to compete at the highest levels of international Drag Racing with their McGee Quad Cam top fuel dragster. Hedley's legacy continues. His granddaughter, Kaitlyn, is the 2007 NHRA Division 7 junior drag racing champion and 2007 LACR track champion. His grandson, Briar won the inaugural 2006 Junior Comp national event in Bandimeere. Briar's brother, Luke, is also an accomplished drag racer who has won many major junior drag races and recently became the first to be licensed in a Harley Davidson powered Junior Comp Dragster.


McGee Cams & Injection Inc.
20732 Soledad Street, Unit I
Canyon Country, California 91351
Phone: 661.250.9050 • FAX: 661.250.9051
email: chris@mcgeecams.com





© COPYRIGHT 2005-2007 by McGee Cams & Injection Inc. All rights reserved.